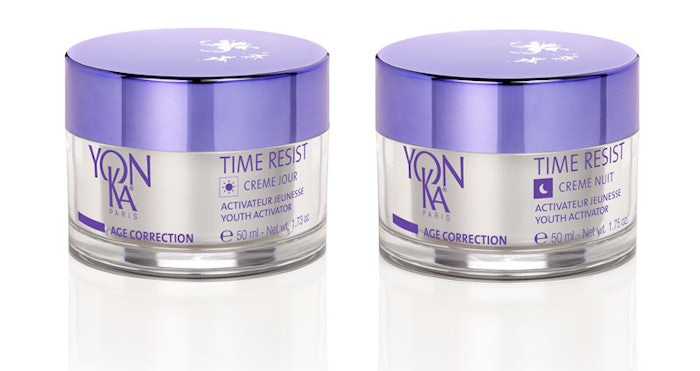 Resist time, resist aging with Yon-Ka Paris' innovative TIME RESIST duo. Our skin reflects the passage of time due to the cumulative effects of intrinsic and extrinsic aging.
TIME RESIST JOUR & TIME RESIST NUIT provide new and targeted solutions to combat signs of aging. Both formulations feature the potent plant based Saponaria Pumila stem cells, which work vigorously to protect and preserve our dermal stem cells, resulting in an overall increase in skin firmness and elasticity. YON-KA's serenity molecule rich in anti-stress and anti-inflammatory properties, also known as youth energy lipoaminoacid, works to combat the damaging effects of inflammaging.
Used consistently the dynamic TIME RESIST JOUR & NUIT duo will work synergistically to fight the visible signs of fatigue, visibly smooth wrinkles and firm, plump and re-densify skin leaving it radiant, hydrated and glowing with new youth activating properties.