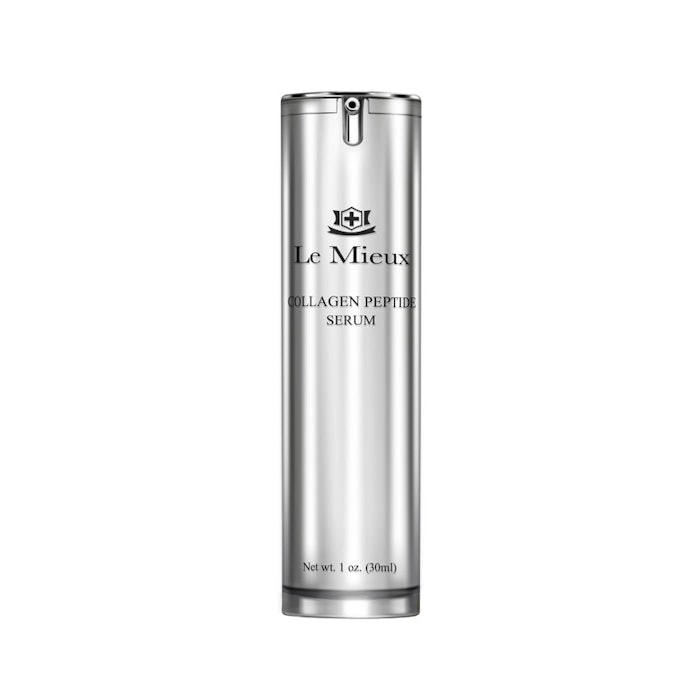 Stress, emotions and simple day-to-day challenges can impact the overall condition of your skin. Everyday, skin care professionals remind their clients that stress-related lack of sleep, frowning, crying, and tensing facial muscles can cause wrinkles, sagging skin, discoloration and other signs of premature aging.
As if that weren't bad enough, researchers have discovered that stress also speeds up the shortening of telomeres—the regions found at the ends of chromosomes.
What are Telomeres?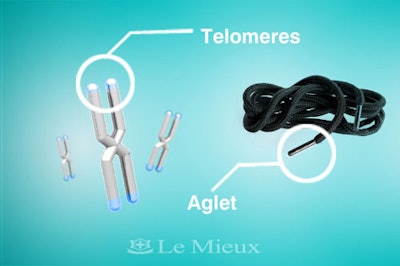 Telomeres protect the tips of the chromosomes, similar to the way that aglets prevent the tips of shoelaces from fraying. When age and stress cause telomeres to deteriorate, our chromosomes are affected, leading to cellular dysfunction associated with visible signs of aging.
However, a remarkable substance, teprenone, has been shown to slow down the shortening of telomeres. Teprenone is a plant derivative known to extend the lifespan of skin cells and facilitate cellular repair.
Teprenone in Collagen Peptide Serum
Le Mieux Collagen Peptide Serum features teprenone as a key ingredient in a potent blend designed to increase hydration and collagen production for a remarkable lifting and firming effect.
This luxurious, creamy serum also contains the most advanced peptide technologies available, as well as hyaluronic acid, retinyl palmitate, superoxide dismutase, and ceramides I and III to specifically target sagging facial contours.
"While most anti-aging creams focus on creating a barrier to seal and retain moisture inside the skin, this new serum focuses on increasing the moisture levels from within to achieve toned, firmer-looking skin," says Janel Luu, CEO of Le Mieux, a global, professional beauty brand.
"Collagen Peptide Serum features an exclusive double-encapsulated, timed-release technology that allows potent anti-aging ingredients like teprenone to reach targeted areas and rejuvenate the delicate tissue on the face, neck, and décolleté."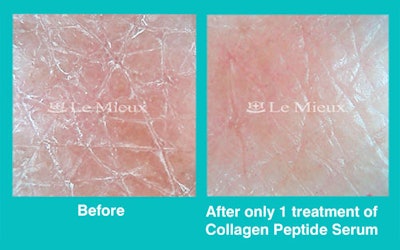 In Collagen Peptide Serum, teprenone joins forces with ground-breaking peptides to combat signs of aging by:
reducing wrinkle depth and stimulating collagen and elastin;
superoxide dismutase, an antioxidant that fights free-radical damage and helps prevent fine lines, wrinkles and hyperpigmentation;
retinyl palmitate, a form of Vitamin A that encourages gentle exfoliation and promotes collagen production; and
ceramides II and III to help prevent water loss and dryness while strengthening the skin's essential moisture barrier for a healthy, ageless complexion.
Raving About Collagen Peptide Serum
Medical spa directors, top estheticians, celebrities and their makeup artists—men and women—are huge fans of Collagen Peptide Serum, as well as other Le Mieux products.
"I've always loved Le Mieux products and have used them in my makeup kit. Recently, I worked with this celebrity who had dull, damaged skin. She was put on a full Le Mieux skin brightening regimen that she followed religiously and I swear, no joke, her skin within two days looked brighter, smoother, dewy and it almost glowed. I was blown away! I knew Le Mieux products were great, but wow, this was amazing to witness. She, too, was like, 'I am obsessed with this product. I'm going to blog to my fans about it.'"
–Stephanie Kae Panek, makeup artist, "Grace and Frankie" (Netflix) and "Death: A Love Story; On This Night"
Although you can't always avoid stress, you can minimize its negative effects on your skin by changing how you respond. Make time to relax, renew and rejuvenate ... and use Collagen Peptide Serum.
About Le Mieux Cosmetics
Le Mieux Cosmetics was founded in 2004 by an elite team of scientists, biologists, physicians, and chemists who are committed to creating pivotal breakthroughs in cosmetic technology to formulate the best anti-aging skin care solutions on the market.
Unlike traditional water-based skin care, the base of Le Mieux products features the Master—hyaluronic acid. Moreover, Le Mieux is the first company to utilize a unique technology to deliver hyaluronic acid, so its intensive moisturizing properties benefit the surface of the skin as well as the intercellular matrix for immediate and long-lasting hydration.
The company has garnered the reputation of "The Serum Authority" for its diverse selection of scientifically advanced serums that perfectly synergize with Le Mieux cleansers, toners, exfoliants, creams and special treatments, each custom-engineered to precisely target and effectively treat a myriad of skin care concerns.