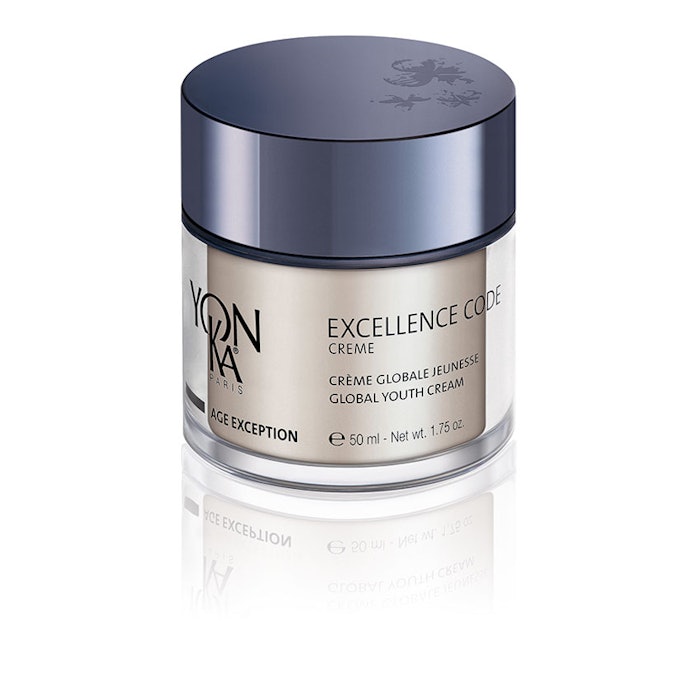 The United States currently has more than 100 million baby boomers over the age of 50, with the last of the boomers turning 50 years of age in 2014. Globally known as the most powerful consumer in the marketplace, this generation controls 75% of the nation's disposable income.
Yon-Ka Paris, the anti-aging expert, recognizes the exceptional needs that specifically pertain to this demanding clientele. Excellence Code Crème, a global youth crème, the second release in our Age Exception Category, targets all signs of aging on all layers of the skin.
This innovative formula for mature and hormonally imbalanced skin; contains 94% ingredients of natural origin and a blend of over 20 bioactive ingredients, divided into three major complexes. Also featuring four patented anti-aging ingredients Excellence Code Crème's, luxurious and rich complex of botanicals work synergistically to protect the epidermal barrier, redefine facial contours and leave the complexion bright, even and radiant.
According to Kathy Fields, MD, assistant clinical professor of dermatology at University of California San Francisco, "Thirty percent of your collagen is lost in the first five years after menopause." This age group endures gross protein and tissue loss, and the skin's ability to protect and repair itself is compromised significantly, as intrinsic skin aging begins to wreak havoc externally.
Epidermal Barrier
Our skin's natural bulletproof vest, the hydro-lipidic barrier has a set of essential and specific functions; it is upheld by maintaining the balance of lipids and moisture, which optimize overall skin health and provide essential protection from environmental stress and damage.
Natural biochemical processes compromise these functions in mature and hormonally imbalanced skin, Excellence Code Crème, works to restore barrier function, reactivate lipid synthesis, and increase overall nutrition and hydration, while also minimizing the onslaught of environmental aggression due to free-radical damage.
The star ingredient, immortality herb, also known as southern ginseng, reactivates epidermal lipids by 39%, working in synergy with cistus, CoQ10 and thistle to protect the skin from external stress.
Defined Facial Contours
Decreased hormone levels lead to degradation of collagen, elastin and loss of glycosaminoglycans (GAGs). These alterations of the dermal structure lead to loss of firmness, (collagen) suppleness and lines (elastin). The dermoepidermal junction (DEJ) is the interface between the epidermis and dermis, providing support and an exchange of vital nutrients and oxygen.
As we age, flattening and separation of the DEJ contributes to overall volume loss of the skins structural integrity. Excellence Code Crème incorporates yeast and nutgrass, two Yon-Ka Paris patented ingredients, that work to strengthen and reinforce the DEJ; firmness is increased by 33% and depth of wrinkles in minimized by 24%, skin is plumped and redensified from the lower layers, and smoothed at the surface.
Skin Radiance
As we age, circulation becomes sluggish, hormonal changes contribute to capillaries becoming rigid, which leads to excess fragility. This in turn leads to a lack of oxygenation and nutrients being no longer optimized. Solomon's seal, arnica and cypress promote elasticity of the vessels and oxygenate the tissue, increasing the exchange of vital nutrients; brightening the overall complexion and providing a luscious radiant glow. An overabundance of clumped melanin and an overall thinner epidermis exposes unsightly hyperpigmentation.
Excellence Code Crème combats this by infusing the patented Palmaria palmata extract. Rich in micronutrients and phytochemicals, this red algae works on slowing melanin synthesis and distribution.
Dark spots are reduced by 25%, brightness in increased by 33% and the complexion is improved by 66%. Publically launching June 1,  2015, we remain proud and committed to crafting products based on technical achievements, visible results and naturalness; the perfect mix for the Yon-Ka  Paris brand.