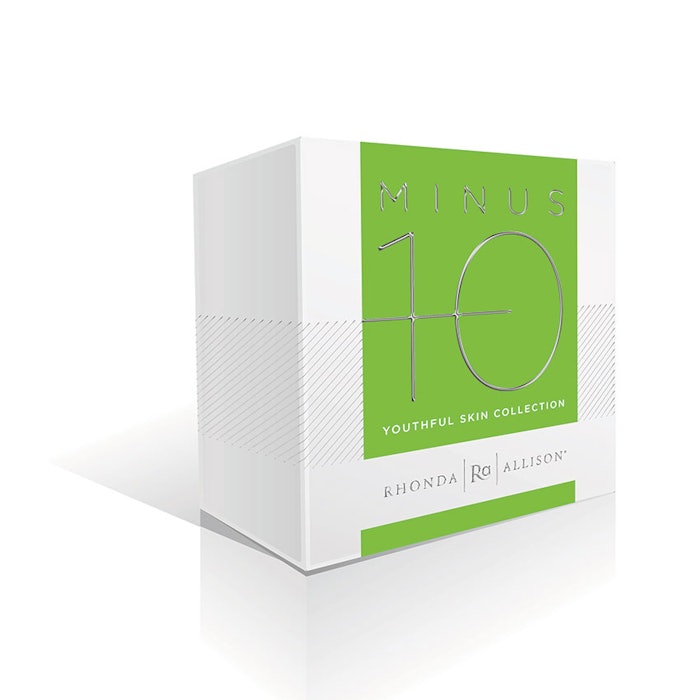 To purchase the Minus 10 Youthful Skin Collection or any Rhonda Allison products, please visit www.rhondaallison.com or call 866-313-7546.
The new Minus 10 Youthful Skin Collection is Rhonda Allison's most avant-garde pro-youth collection yet, designed to rebuild skin strength, reduce inflammation and the signs of cellular fatigue, and replenish depleted, dull skin. It combines six potent pro-youth formulas into one powerful skin care system to melt away the years.
The name of the collection says it all! The Minus 10 Youthful Skin Collection merges the most cutting-edge ingredients in science and nature to transform the skin. Potent actives, like retinaldehyde, super antioxidants, peptides, stem cell technology, galactoarabinan, cerearyl/sorbitan olivate, ergothioneine and Albizia julibrissin (mimosa bark) work together to target the mechanisms that affect skin degradation.
The Collection includes the new AGE less, ChronoPeptide A, Peptide 38, Drop of Essence Hydration Drops, and the Eye & Lip Renew Serum, and the new Sheer Tint Finisher — a collection that works synergistically to melt away the years.
"People often ask me what I use on my skin," said Rhonda Allison, founder and CEO of Rhonda Allison Cosmeceuticals. "Minus 10 is my personal creation for the ultimate home regimen covering all of the primary aging issues from free-radical damage, wrinkles, loss of elasticity and vibrancy to tired, lifeless skin."
The AGE less Anti-Glycation Serum Enhanced, one of Rhonda Allison's newest advanced serums, protects the skin from the harmful effects of glycation, reduces the signs of skin fatigue, and delivers key antioxidants and UV support. The ChronoPeptide A, a unique retinaldehyde skin-building peptide complex, further supports skin re-youth by delivering 24-hour pro-youth and potent regenerating benefits.
One of the most powerful peptide complexes to date, the Peptide 38, utilizes next-generation matrikine-mimetic peptides and essential oils to oxygenate and rebuild healthy, plump skin. The Drop of Essence Hydration Drops, a pure blend of omega 6 essential fatty acids assists other important actives in penetrating the skin while providing anti-inflammatory support and hydration.
The Eye & Lip Renew Serum reduces puffiness, minimizes lines and hydrates the delicate tissue around the eyes and lips. A liquid crystal complex in the serum restores the skin's youthful glow, while retinol and ascorbic acid stimulate collagen production. To finish, the new Sheer Tint Finisher, an aloe- and mineral-based day cream, provides natural antioxidants, anti-redness and anti-inflammatory benefits while giving the skin radiance and a hint of color.
To pair with the Collection, Rhonda Allison has also introduced the new Minus 10 Facial, which infuses the skin with actives to stimulate, repair and rejuvenate skin tissues. These actives communicate directly with cells to produce more collagen, creating a firm, tone, luminous and buoyant appearance.
For more information about the Minus 10 Youthful Skin Collection or Minus 10 Facial, visit www.rhondaallison.com or call 866-313-7546.