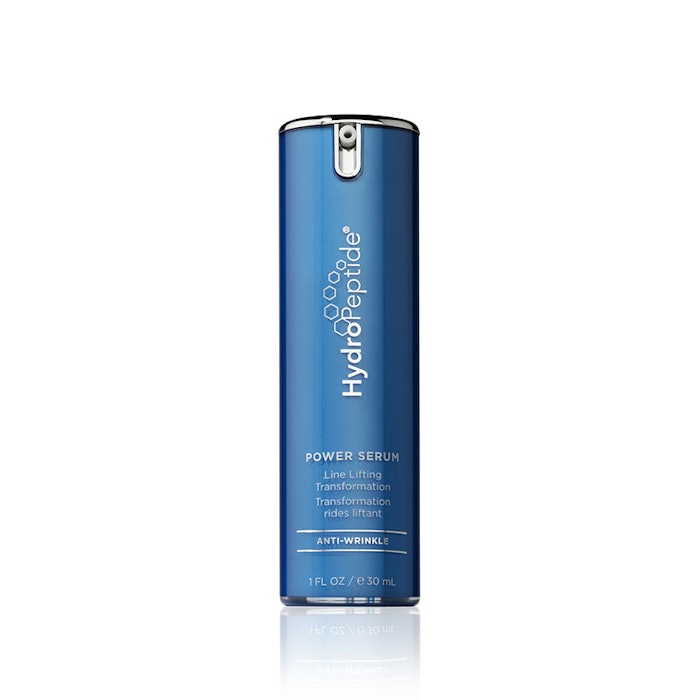 To purchase the Power Serum: Line Lifting Transformation or any HydroPeptide products, please visit www.hydropeptide.com, e-mail info@hydropeptide.com or call 800-932-9873.
For the past 10 years, HydroPeptide has been the authority in peptide skin care. HydroPeptide's award-winning professional and retail product lines are famous for immediate visible results and noticeable long-term benefits, as the formulations feature more than 60 different peptides. While each peptide found in HydroPeptide products acts as a unique molecule to help skin react better to the constant bombardment of harsh substances, HydroPeptide uniquely blends multiple peptides together to amplify the response and to combat several signs of aging.
HydroPeptide Power Serum: Line Lifting Transformation is a fast-acting serum shown to produce cumulative results — reducing the appearance of fine lines and wrinkles while leaving behind a silky and elastic texture. Volumizing peptides restore youthful contours to the face by enhancing fatty tissue volume. Crocus chrysanthus Bulb extract restores collagen to its maximum potential by mimicking the activity of the skin's natural growth factors. A built-in antioxidant treatment features white tea to protect skin from future damage and alpha lipoic acid for its skin-firming properties.
Power Serum contains an exclusive breakthrough peptide preservative that replaces chemical alternatives. This peptide preservative gives HydroPeptide formulas a two year shelf life without the risk of skin irritation, contact dermatitis or toxic effects on the brain and nervous system — potential side effects associated with chemical-based preservatives. In addition to keeping the cosmetic formulas stable, this antimicrobial peptide complex also promotes a clearer complexion by multitasking to kill breakout-causing bacteria. HydroPeptide is the ideal scientific line for those desiring flawless and forever young skin without exposure to chemicals and other harsh ingredients.
Dermatologists, spa directors, celebrities and their makeup artists are using and talking about HydroPeptide Power Serum:
"I started noticing results in about two weeks. I use HydroPeptide Power Serum all the time on my clients … fine lines are less noticeable, especially under makeup. The product absorbs so quickly into the skin that I can apply makeup right away with beautiful results, which is so helpful when I need to quickly finish the model's makeup. Also, the Power Serum works well with oily and dry skin types, which is great because that's one less product I need in my kit!"
–Amy Clarke, celebrity makeup artist, works on Jamie Chung, Autumn Reeser and Melinda Clarke
About HydroPeptide
Founded in 2004, HydroPeptide is a leading peptide-based anti-aging cosmeceutical line famous for 10 professional facial treatments and 21 retail products featuring VLR technology — using the correct variety of peptides applied at clinical levels with continuous repetition for superior anti-aging results. Powered with over sixty peptides, botanical stem cells and hyaluronic acid, HydroPeptide has perfected the combination of science and aesthetics, creating simple customizable daily care and professional treatment solutions for a range of skin care concerns that are free of harsh chemicals, parabens, phthalates, and gluten.
To purchase HydroPeptide, please visit www.hydropeptide.com or call 1-800-932-9873.