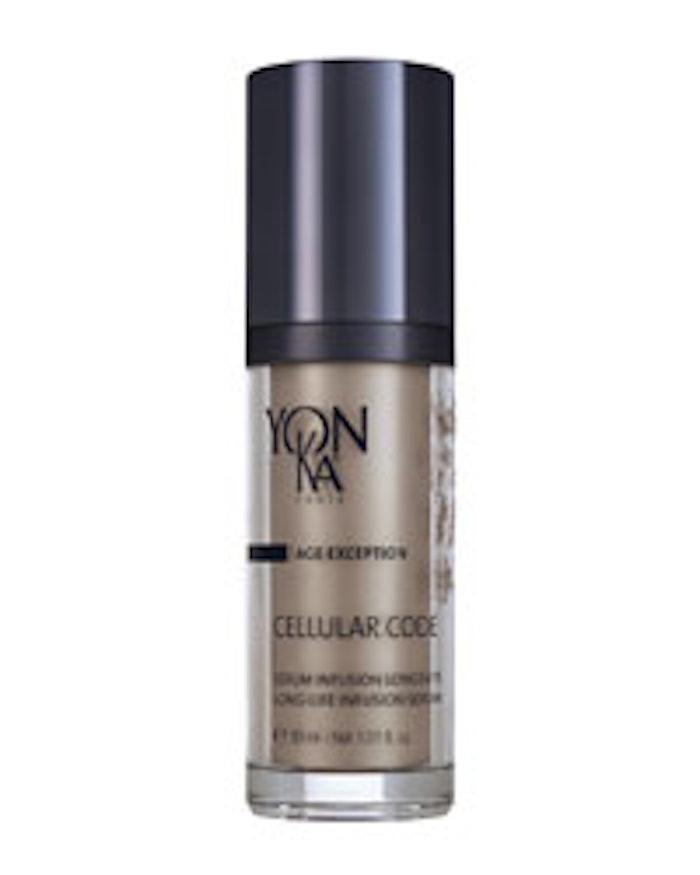 To purchase Cellular Code Serum or any Yon-Ka Paris products, please visit www.yonkausa.com or call 800-533-6276.
Like an elixir of youth, this exceptional anti-aging serum acts at the heart of the cells to reactivate the skin's vital functions and reveal new youthfulness. Cellular Code is the first product of the new Yon-Ka anti-aging line specially designed for mature skin: Age Exception.
The Cellular Code Serum, an intuitive serum featuring seven unique cell-energy patents that reprogram the skin's youthfulness, is a formula combining highly technological achievements and cellular actions, sophistication and naturalness—97% natural-origin ingredients and paraben-free.
The Cellular Code Serum delivers five youth-enhancing actions to the cells to restore their communication, immunity, energy and adenosine triphosphate (ATP), oxygen levels and longevity. The serum protects the cells membrane and renews five main actions at the heart of the cells.
Effectiveness and key claims:
Smoothes wrinkles;
Improves firmness;
Regenerates the complexion for more radiant skin;
Reduces signs of fatigue; and
Non-oily, non-sticky texture.
Instructions for use:
Smooth 2–3 pumps over skin, morning and evening before your usual cream;
The elegance of a fine, silky texture is rapidly absorbed; and
Enjoy the pleasure of a refined scent developed in perfect harmony with the Yon-Ka Quintessence, a zesty freshness of citrus fruits, the complexity of geranium leaf and rose, the powdery note of cassie flower and the sweetness of tonka bean and guaiac wood.
The heart of this serum, based on the latest discoveries in fundamental research on cellular aging, features Cell-Energy, the exclusive Yon-Ka Complex showcasing four natural active ingredients:
Lipoamino acid—an alanine-based amino acid derived from biotechnology, stimulates intercellular exchanges between keratinocytes, the dermal-epidermal junction and fibroblasts. The improvement of these exchanges boosts the assimilation of nutrients and prolongs the membrane integrity and balance of cells, which deteriorates with age;
 
Baicalin—a polyphenol extracted from Scutellaria baicalensis root, prolongs the life span of fibroblasts by delaying the shortening of telomeres (ends of the chromosomes);
 
Tropaeolummajus majus extract—rich in arabinogalactans, facilitates the transport and intracellular diffusion of oxygen, a function notably responsible for the radiance of the complexion and that tends to decrease over time; and
 
D-ribose—a natural complex sugar of biotechnological origin, helps to accelerate the synthesis of ATP, the molecule that stores energy and distributes it to cells enabling them to react and adapt to internal and external stress.
About Yonk-Ka
Yon-Ka Paris is a luxury, French skin care line that has been family owned and operated celebrating their 60th anniversary. Focused on providing phyto-aromatherapeutic treatments, Yon-Ka products offer outstanding results with no compromise to the skin's health.
Availability
Yon-Ka Paris Cellular Code Serum is available in stores and spas nationwide. To locate a Yon-Ka retailer, visit www.yonkausa.com.
To order your Cellular Code Serum or any Yon-Ka Paris products today, or to learn more about the company, visit www.yonkausa.com or call 800-533-6276.