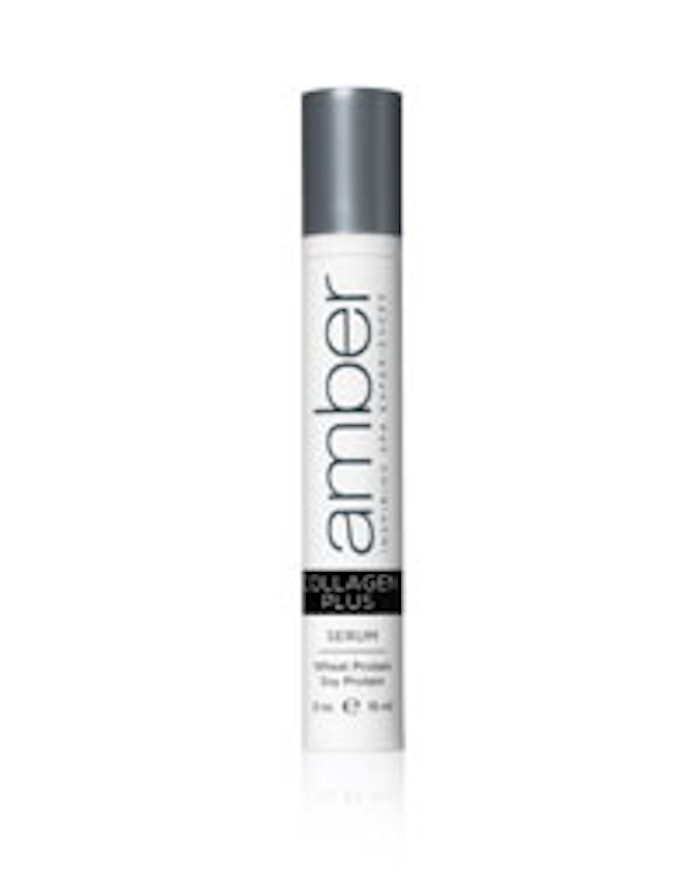 To purchase the Collagen Plus Professional Facial Serum or any Amber Products, please visit www.amberproducts.com or call 800-821-9188.
Collagen Plus Professional Facial Serum by Amber Products is an intense formulation to enhance and promote collagen production in the skin resulting in younger, more supple looking skin. Since collagen is made up of a network of fibers, the healthier and more organized these fibers are, the younger the skin appears.
Collagen Plus works with three key stages:
The synthesis of new collagen;
The control of collagen fibril dimensions and arrangement; and
The inhibition of enzymatic destruction to avoid the natural degrading process.
Pseudoalteromonas ferment extract, a strain of bacteria isolated from mud found in Antarctica that contains a protein peptide composed of glycine, histidine and lysine (GHK), functions by protecting the bacteria against the harsh Antarctic conditions. When delivered to the skin, it acts the same way resulting in collagen synthesis and skin regeneration. Studies show a 128% increase in type I collagen, up to an 81% increase in type IV collagen and 31% in elastin.
Hydrolyzed wheat protein and hydrolyzed soy protein boosts the proliferation of collagen type III. As we age, collagen III is lost, however, this boost compensates for more dominant, youthful levels of collagen lost to aging.
In addition, tripeptide-10 organizes and arranges collagen for better stability and cohesion, regulates fibrillogenesis and controls fibril growth and size. Thus, the skin becomes more supple and provides a higher resilience to stretching to help reduce the appearance of wrinkles.
This product is for professional use. Best if used under a masque, such as Amber Products Collagen Infused Paraffin Facial Masque. For at home care for your client, Amber suggests the Age Defense Skincare line and Hydro Collagen retail serum.
To order your Collagen Plus Professional Facial Serum or any Amber Products today, or to learn more about the company, visit www.amberproducts.com or call 800-821-9188.