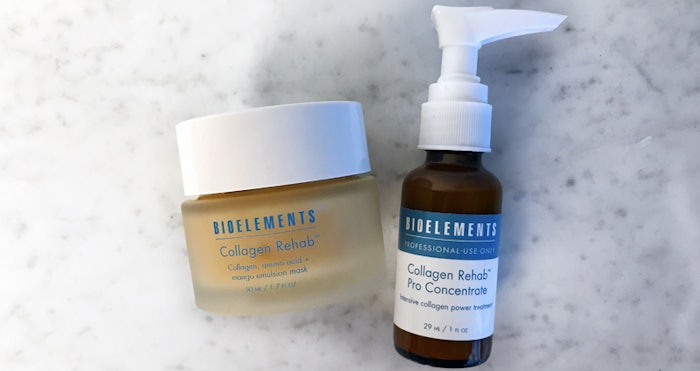 Introducing Bioelements NEW Collagen Rehab®
An ingenious fusion of collagen-supporting amino acids, softening mango and moisture-builders rehabilitate aging, lined and exhausted skin. Amino acids help support collagen and elastin performance so lines appear filled, skin looks firmer and acts years younger. Plus, vitamin F and fatty acid-infused lipids mimic skin's natural ability to maintain elasticity. Collagen Rehab saturates skin to create a discernable moisture barrier that lasts up to 72 hours. Wrinkle appearance improves, and skin looks instantly renewed, dewy and firmer. It can also be applied to lips for an intensive overnight treatment.
Formulated with:
Five plant collagen amino acids (rice extract, soy bean, carrot, quinoa and red ginseng) that deliver a complex of amino acids to feed skin's collagen
Skin replacement lipids and fillers increase production of Collagen I by 179% and Collagen III (youth collagen) by 194%; increase elastin production by 190%; and increase firmness by 13x, and elasticity by 1.6x in 15 days (ex vivo tests)
A 72-hour discernable moisture reservoir for a more than 50% improvement in smoothness and softness, and more than 50% reduction in flakiness after two weeks (in vivo tests)
NEW Collagen Rehab® Pro Concentrate
An intensive collagen power treatment formulated with higher, clinical doses of key active ingredients. Create a completely new service menu treatment—Bioelements Collagen Rehab Facial—with this new professional-use-only formula.