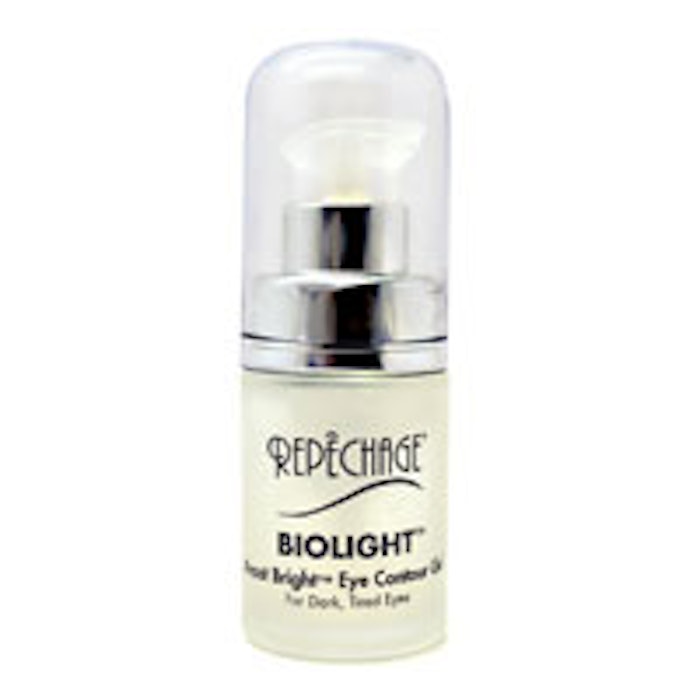 To purchase Biolight Frost Bright Eye Contour Gel or any Repêchage products, please visit www.repechage.com or call 800-248-SKIN (7546).
Give your eyes a true "spring awakening" with the all new Repêchage Biolight Frost Bright Eye Contour Gel! Whether you're working late nights, suffer from allergies or have had a few too many martinis, your eyes could use a little lift!
A unique combination of brightening and cooling ingredients, Repêchage's proprietary Frostilyte Complex found in this eye gel provides a long lasting lifting and de-puffing effect to instantly awaken tired eyes! The Biolight Frost Bright Eye Contour Gel instantly cools and freshens up your skin, while the two peptides in this gel will help to reduce those unwanted fine lines and wrinkles. And if your coffee isn't cutting it, we've added a "shot" of caffeine for an extra energy boost.
Frostilyte Complex
A combination of a brightening active, and a unique self cooling ingredient.
Laminaria digitata (seaweed)
Provides hydrating, nourishing, and anti-oxidant properties. Natural sources of 12 vitamins, including B12, C, E, K and beta carotene, 18 amino acids, and 42 trace elements. Essential fatty acids help maintain the skin barrier while alginic acid—a polysaccharide—helps to lock moisture into the skin. Known to help increase cell proliferation.
Palmitoyl oligopeptide
Known to help stimulate collagen production and encourage the production of intercellular matrix substances such as hyaluronic acids.
Palmitoyl tetrapeptide
It is known to work by muting the effect of chemical messengers known as interleukins in the skin that trigger an inflammatory response.
Caffeine
The active ingredient of the coffee plant, provides a topical slimming stimulant that is known to help increase the body's own enzymes responsible for the degradation of fat.
Bellis daisy
A skin-brightening agent derived from daisy flowers. Known to help reduce melanin activity, provide even pigmentation and makes age spots less visible. Reduces UV-stimulated induction of melanin biosynthesis. The binding affinity of melanocyte-stimulating hormone (alpha-MSH) to its receptor and tyrosinase activity is both down regulated.
Cucumber oil
Cucumber is widely known as a soothing, cooling and healing agent, but the essential oil of cucumber has even greater benefits. With vital fatty acids and anti-oxidants, such as vitamin E and zinc, cucumber oil protects the skin and aids in healing. Proteolytic enzymes refine the skin and help keep pores clean and clear.
Licorice root
Extract that is known for its anti-inflammatory properties.
Green tea extract (Camellia sinensis)
Extract of unfermented tea, high in catechins such as epigallocatechin gallate (EGCG), gallocatechin (GC), epigallocatechin (EGC), and epicatechin (EC). Protective against free radicals. Provides superior anti-inflammatory benefits.
This spring you'll be able to rise and shine with the all new Biolight Frost Bright Eye Contour Gel! Available May 2014.
To order your Biolight Frost Bright Eye Contour Gel today or any other Repêchage products, or to learn more about the company, call toll free 1-800-248-SKIN (7546) or log onto www.repechage.com.