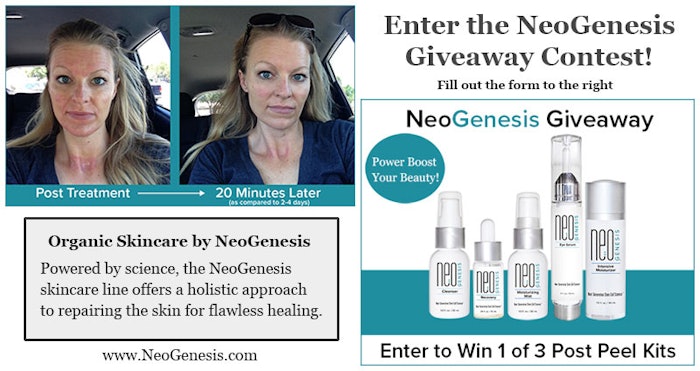 Healing the skin after invasive procedures may determine the success of the treatment. Minimizing heat, irritation and other side effects, will boost results and keep clients happy.
Peels are a popular service in today's esthetic practice and can remove years off of the skin's appearance. The downside is irritated, dry and peeling skin! This is the time to be diligent in caring for the skin as it heals. Without the proper care, the skin can become more damaged than before the peel.
Powered by science, the NeoGenesis skin care line offers a holistic approach to repairing the skin for flawless healing. NeoGenesis Cleanser, Recovery, Eye Serum, Intensive Moisturizer and Moisturizing Mist are the products recommended for damaged or irritated skin. Use them before and after a peel for the best results.
Fill out the form to the right to be entered to win a NeoGenesis Gift Bag giveaway drawing!