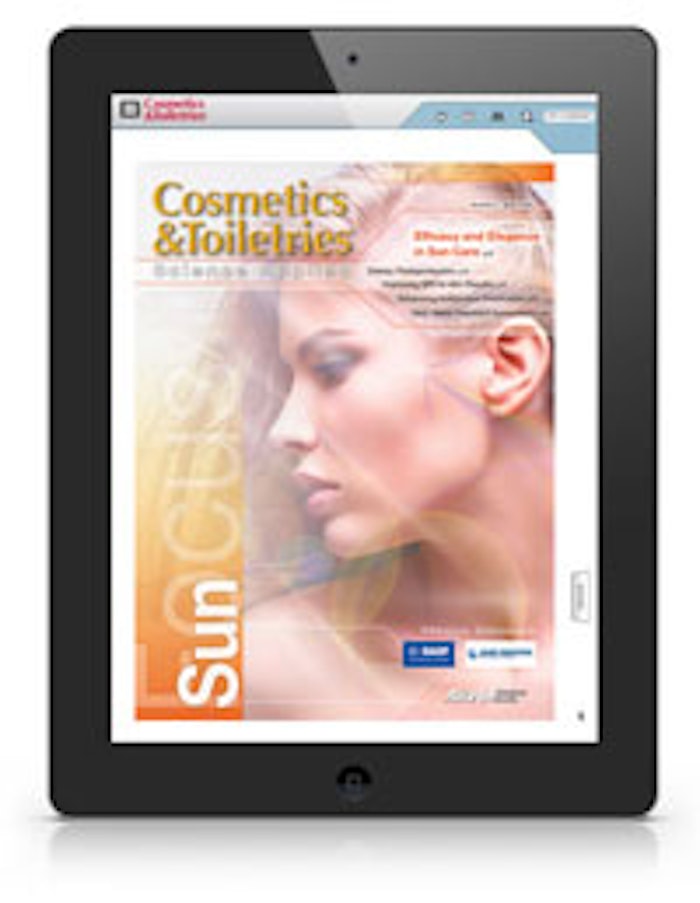 Allured Business Media, publisher of Cosmetics & Toiletries, recently released a magazine iPad app that provides cosmetic scientists peer-reviewed formulation and research content previously only available in Cosmetics & Toiletries' print magazine. The app is available as a free download at www.cosmeticsandtoiletries.com/app .
Launched to support the formulating efforts of its readers, the Cosmetics & Toiletries app enables users to save articles, supplier-provided ingredients and formulas, and other pieces of content to their personal "My Library" database. Users also can share the app's content with colleagues as well as request ingredient samples from suppliers directly.
The app's creation is a direct result of meetings Cosmetics & Toiletries' leadership held with cosmetic manufacturers and suppliers. The needs of cosmetic formulators, research scientists, product developers and R&D managers served as the driving force throughout the app's development.
"This app embraces the leading-edge technology that is critical for effectively and efficiently delivering content along with an equally efficient method to source ingredients – all critical to cosmetic product development today," said Jeff Falk, editor-in-chief of Cosmetics & Toiletries. "It also helps cosmetic scientists stay informed of the latest news and developments impacting cosmetic R&D."
The magazine app is part of a continuing series of improvements to Cosmetics & Toiletries' product lineup. The brand's relaunch began with a redesigned print magazine, debuting with the January/February 2014 issue, and a rebuilt website at CosmeticsandToiletries.com, which launched January 2014.
About Cosmetics & Toiletries
For over 100 years, Cosmetics & Toiletries has interpreted the scientific and technological breakthroughs of tomorrow to help cosmetic scientists apply it to their research today. Trusted by leading cosmetic developers, Cosmetics & Toiletries continues to strengthen its position as a leader for news, articles, industry trends and insight that readers need to stay informed.
About Allured Business Media
Allured Business Media's innovative product mix of magazines, trade shows, conferences, directories, books, websites and electronic media arms the cosmetic, spa, and flavor and fragrance industries with more than 80 years of knowledge and experience along with a wealth of information.