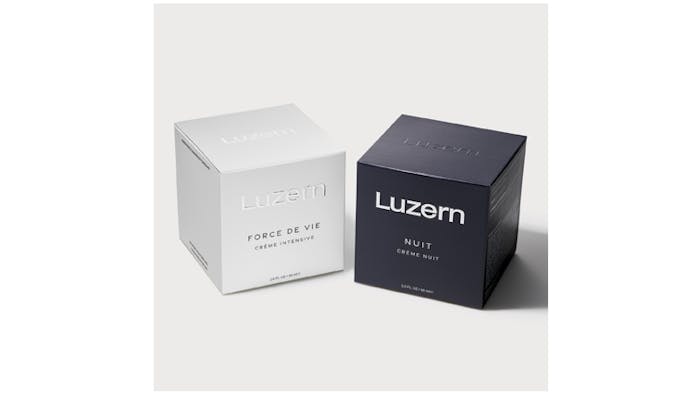 Courtesy of Luzern
Luzern Laboratories has just completed its first major rebrand since its 1999 launch. The rebrand sought to make its packaging even more sustainable by now using new FSC certified paper for the boxes.
Aside from the paper boxes, all serums will now be sold in glass bottles. This allows the packaging to be more easily separated and recycled, as it is most "green" choice for jars and bottles. 
In addition to packaging and branding updates, Luzern has launched some new products: 
Firming Facial Mist: Now available in 2 fl. Oz. and 4 fl. Oz, the Firming Facial Mist visibly firms, hydrates and provides an instant boost of radiance for devitalized skin. 
Crème Nuit: Harnesses the power of retinol, peptides and Swiss alpine to repair and renew the skin over night. It helps reduce roughness, dryness and the appearance of fine lines and wrinkles, while also working to hydrate, protect and plump skin, plus improve skin elasticity. 
Alpine Rose Nectar Masque: Infused with precious ruby powder, stem cells from the treasured Alpine Rose, a proprietary peptide-ferment and an abundance of moisture factors and nutrients, this nectar mask leaves skin soft and luminous.