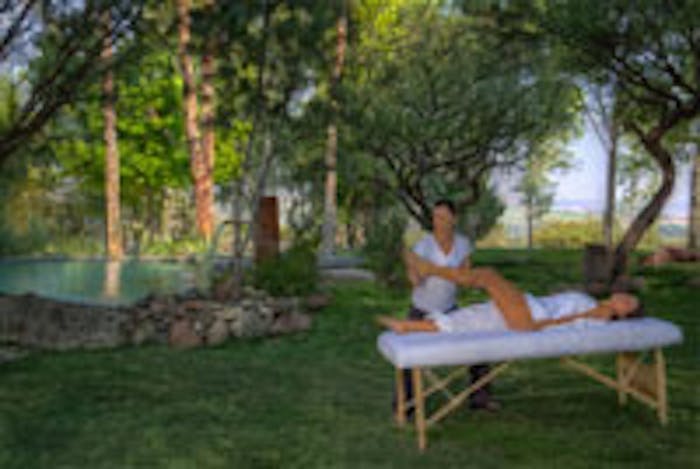 Hotel Matilda in San Miguel de Allende, Mexico, has unveiled a prototypal spa concept called "Spa en Vivo" – a "living spa" that offers guests a unique new set of sublime experiences shaped by a beautiful nature setting with therapeutic thermal waters. Located on a private hilltop in the countryside, boasting mineral-rich thermal springs, lush gardens and expansive panoramas, Spa en Vivo embodies the belief that direct interaction with nature generates unique opportunities for personal discovery, transformation and well being. Therapeutic soaking, massages, treatments, fitness classes, and time for relaxation and meditation – all in tranquil, verdant outdoors – are the integral components of Spa en Vivo. Guests enjoy pools with thermal waters; a contemporary interpretation of a temazcal sweatlodge that cleanses and detoxes; A range of massages and therapies experienced in outdoor treatment rooms enclosed by bamboo for privacy; a comfortable changing area with bathrooms and outdoor showers; a Yoga Pavilion where various classes are conducted; and an array of resting and gathering areas with overviews of the bucolic landscape and perfectly positioned for watching colorful sunsets.
A new 11,840-square-foot spa overlooking the Gulf of Thailand has officially launched at the Conrad Koh Samui Resort and Spa development on Thailand's Aow Thai Beach. The spa offers treatments influenced by traditional Thai healing practices and was developed in collaboration with Dr. Buathon Thienarrom, a leading authority on holistic therapies. Facilities at The Spa at Conrad Koh Samui include a VIP water/rock treatment room and two double treatment rooms, as well as five single treatment rooms and a relaxation lounge. Two Thai massage rooms; a hydro steam zone; a stone changing room; and a manicure and pedicure salon also feature at the spa, which uses Aromatherapy Associates products.
The 50-villa Park Hyatt Maldives Hadahaa resort in the Gaafu Alifu Atoll, which was taken over by the Hyatt Group earlier this year, has announced the launch of its new Vidhun Spa. Guests at the spa will be able to benefit from the traditional Maldivian medicinal practice of Dhivehibey, which has roots in Ayurvedic, Chinese and Tibetan medicine. The Vidhun Spa, which means "to shine", aims to generate Sehathu (good health) through the balancing the three humours of the body: Hoonu (hot); Fini (cold); and Hiki (dry). Vidhun-branded products will be used, along with June Jacobs. Visitors start their Vidhun "journey" by walking through lush gardens to a tranquillity pool that marks the entrance to the spa village, which consists of five treatment villas. The 'experience' starts with the application of the signature Meeruvas (scent) to the wrist of the guest, who is also offered the customised Maldivian drink Kurun'baa Fani. Treatments begin with the Meeruvas Lonu (aromatic salt) ritual, with visitors invited to soak their feet in warm peppermint salt water to stimulate the nerve endings. Guests then receive pressure point stimulations on the scalp, shoulder, back and legs, as well as spinal stretching. Treatments culminate with the Loa Faruaa eye-care ritual.
The Shiseido day spa in Beirut, Lebanon has undergone a $221,000 redevelopment which has added two new treatment rooms to the facility. Housed at the city's Qi Institute, the 350sq m spa now houses five treatment rooms, including the two new spaces that will mainly be used for specialist facial treatments. As part of the revamp, the former Anemone-themed room has been transformed into a master treatment suite with its own private bathroom and two new relaxation areas have also been added.
Hotel Le Bristol in Paris, France, has celebrated the completion of a $139 million renovation program with the opening of a new spa in conjunction with La Prairie. Spa Le Bristol by La Prairie, along with two new signature suites and a new-look three-star Michelin restaurant Epicure, formerly Gastronomique, marked the final phase of the project.The spa boasts eight beauty treatment cabins; a Russian Wet Room with one of Paris' first affusion showers; a female-only Turkish Bath; and a double VIP suite. A fitness center and a hairdressing salon also feature as part of the spa, while the swimming pool on the sixth floor overlooking Parisian rooftops complements the recreation facilities.
The new Mantra Samui Resort and Spa, which has taken three-and-a-half-years to develop, has opened its doors to guests for the first time in Koh Samui, Thailand. A member of the Great Hotels of the World Luxury Collection, the privately-owned resort was unveiled on 10 October and includes the 1,615-square-foot Splendid Spa. Three treatment rooms and an additional room for hot herbal baths are among the facilities at the spa, which also features a steamroom, a sauna and a Himalayan salt relaxation room. Mantra Samui Resort and Spa facilities also include a Life Fitness-equipped gym; a movie theatre; and a Salt Yoga Studio, which has been constructed using Himalayan salt bricks.
Hilton Hotels and Resorts (HHR) has announced that its spa concept, eforea: spa at Hilton, is to make its European debut this month (October) at its Hilton Baku property in Azerbaijan. Located on the 23rd floor of the Baku hotel, the new 1,500sq m (16,146sq ft) spa is to offer views overlooking the Caspian Sea and the Baku cityscape. Facilities will include eight "oversized" treatment rooms; transition lounges for relaxation; full-body hydro massage beds within the whirlpool and a traditional hammam. Meanwhile, the presidential spa suite will include a private steamroom and sauna, as well as two treatment beds, a day bed. All areas of the spa are designed to "maximise" the views overlooking Baku.
A new women-only spa will open in the Al-Saad area in Doha, Qatar. The Venus Salon & Spa Beauty has been designed by Hamilton International with Sweden-based Raison d'Etre providing consultancy services on the project. The spa will have three single treatment rooms, hammam, Thai massage pavilion and a private spa tent with hydrotherapy bath. There will also be three separate beauty rooms a "makeup room", thee manicure and pedicure stations and a special Pearl-branded treatment room. A health and fitness club houses a number of CV and resistance stations and will offer Stott Pilates studio, personal training and yoga.Beauty treatments will include Swedish massage, hammam-based journeys, body scrubs, anti-ageing facials and manicures as well as digital skin analysis with Canfield Imaging Systems, Intreceuticals oxygen facials and Vela Shape cellulite reduction.
Work has been completed on four luxury spa suites at the Centre Parcs Elveden Forest holiday village in Suffolk, UK. The £1.5m suites, which are a brand new concept for Center Parcs, are located adjacent to the Aqua Sana Spa, giving guests that stay in them private access to the World of Spa. The accommodation has a large open-plan living space and features a fireplace, twin beds or double bed and private balcony or terrace. To fit in with its woodland surroundings, the interior of the new style of accommodation will have natural forest tones throughout, with large windows and a terrace or balcony for guests to enjoy the views.
Bovey Castle, Devon, has been unveiled as the home of a new UK flagship spa for Sundãri, the Ayuverdic-inspired brand established by yoga enthusiast and model Christy Turlington. Therapists from the luxury hotel and sporting estate have worked alongside a team from Sundãri on the development of exclusive treatments using ingredients sourced from around world. All treatments are based on the 'dosha' of each client, with all signature rituals and therapies lasting more than 90 minutes in duration to start with personally-tailored yoga stretches.Bovey Castle's Sundãri Spa currently includes five treatment rooms; a relaxation room; and a salon, as well as a sauna, a steamroom, a whirlpool and a fitness suite equipped by Precor.
Singapore-based hospitality operator Como Hotels and Resorts has announced that the Shambhala Urban Escape is to open at its Metropolitan London property. The group said its facility, which will provide an "intimate, results-driven spa", aims to demonstrate its holistic approach and offer treatments developed at resort spas across the world. Linzi Coppick of Forme UK has led the design of the new Como Shambhala Urban Escape, which features six treatment rooms; two of which will be doubles and offer steamrooms. The new spa also includes an expanded gym and yoga facilities, while the reception will have a dedicated retail space stocking Como Shambhala products.
ESPA Life at Corinthia, the latest spa by industry leader Sue Harmsworth MBE, opened July 2011 as the largest spa in the UK. Measuring over 37,000 square feet and covering four levels, the spa is now ESPA's worldwide flagship. It is also the first location to offer the brand's new ESPA Life concept, an integrated wellness approach that incorporates complementary and alternative medicine (CAM) into a luxury spa environment. Not only is it the first of its kind for ESPA, but it is the first city-center luxury spa in the world to offer CAM programs to its guests. ESPA Life features extensive spa offerings for both men and women, including new age-defying facials and a 'Rush Hour Beauty' menu with treatments created for maximum results within a short period of time. The expansive spa facilities, open to all hotel guests as well as members of ESPA Life, feature an entire floor of thermal options including an impressive 30-foot indoor silver steel swimming pool, an amphitheatre sauna, and exquisite black mosaic steam rooms. There are 15 treatment "pods", one private spa suite for larger spa parties, and a spa lounge serving nutritional yet delicious cuisine.
Centered on an expansive, lagoon-style pool, The Westin Resort & Spa, Playa Conchal Costa Rica is adjacent to the championship Robert Trent Jones II golf facility. Inspiring wellness with its signature Westin The Spa, the resort features beautiful gardens, luxurious suites, thatch-roofed bungalows, as well as breathtaking vistas. The Spa presents its signature treatment The Shells. With unique sea ingredients, using two Costa Rica endemic shells, hot, soft Pacific sand and coconut oil, the expert therapist introduces to the body to a calm and relaxing atmosphere. "The shells are filled with the sand from our beach. The treatment starts with an aromatic ritual that equilibrates the mind and body and then the therapist starts the massage using warm coconut oil", said Martha Solorzano, the Manager of The Spa.